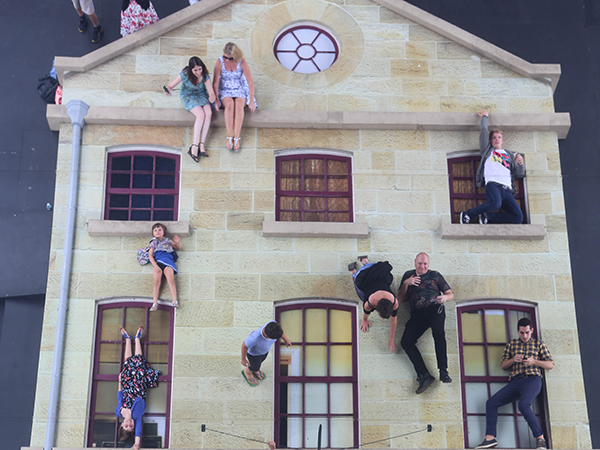 Sydney Festival / On The Wall – SW Newtown (Events)
The Challenge
Argentinian artist, Leandro Erlich was designing an eye-catching, interactive installation and Sydney Festival needed a reliable partner to make it a reality.
Erlich envisioned a reality-bending life size illusion called Merchants Store. A replica of a building facade facing an enormous mirror on a 45 degree would be created and positioned to allow the public to crawl over the horizontal facade while, in the mirror they would appear to be climbing a vertical building with amazing dexterity.
The façade had to be hardy enough to accommodate 50,000 people climbing over it over a three week period and safe enough that it would not be a hazard.
The Solution
For this illusionary marvel, SIGNWAVE Newtown worked around the clock to make it a success, applying non slip, hard wearing grips to the plywood "building" as well as a 3D graphics treatment complemented with light boxes to create the windows and window ledges.
"Once we had painted on the graphic with a non-slip laminate and back lit the windows, we spent two days installing the Merchant Store before it went active at the beginning of the festival,"
The Result
With the carefully and professionally applied graphics and the meticulous installation, festival attendees suffered no slips or injuries on the attraction. Furthermore, there were no calls to repair or update the graphics, which lasted three weeks of families climbing over them. Aesthetically, the Merchants Store also lived up to expectations – the graphics were entirely realistic and uncannily gave the impression that people really were defying gravity and climbing across the façade of a 19th century building in The Rocks.