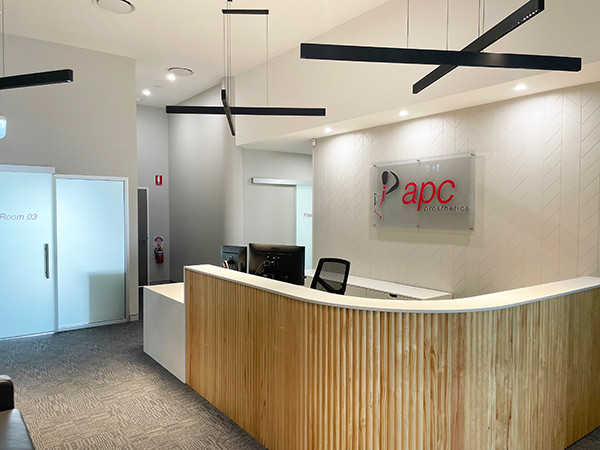 APC Prosthetics - SW Newcastle (Health Care)
The Challenge
APC Prosthetics had the opportunity to open a bigger location that provides their patients more space, light and room for rehabilitation.
As the new practice is located on a very busy road, we needed to not only make the design stand out, but maintain privacy for all the staff and patients inside the rehabilitation and office areas. With lots of large windows, we couldn't simply apply regular prints as bright light was key for those internal areas.
The Solution
Having a huge street and road presence, we had to maintain the staff and patients' privacy.
Having lots of window area, we ended up using a combination of full blockout vinyl prints,
frosting and clear prints backed with 80% white ink. This created privacy while still allowing natural light to flow into the internal space.
The use of custom printed canvas prints and wallpaper in the reception and treatment areas complete the welcoming feeling for staff and patients.
The Result
The original challenge was not to change the look or feel of the business, but to expand it. The best result for our client was that they have a larger, safe and welcoming place for their staff patients alike to visit. This was not so much a 'Grand Re-Opening', but a 'We Have Expanded'.