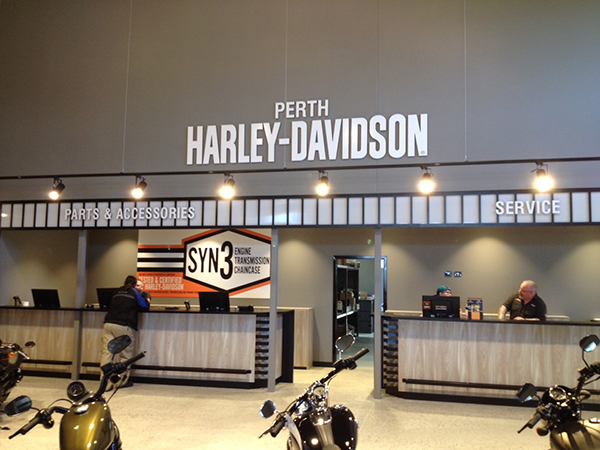 Harley Davidson Centre – SW Belmont (Retail)
The Challenge
The client was after a signage supplier that could bring their premises to life. They had a set list of specifications from their head office of the design elements required to be on brand. They required a supplier with good product knowledge who understood which product would be required for the many different surfaces throughout the premises.
The Solution
SIGNWAVE worked with the local Harley Davidson team and their UK design agency. SIGNWAVE was given the base artwork files and then worked with them to produce a range of diverse signage, graphics and point of sale displays.
There were many different surfaces to work with including shipping containers, counters and timber walls requiring different materials to be used.
SIGNWAVE provided different wall graphics, wrapped containers, laser cut acrylic signs, direction signs and reception signage.
The Result
The client was extremely happy with the final result of their fit out. Their location is on brand and visually appealing to their clients.