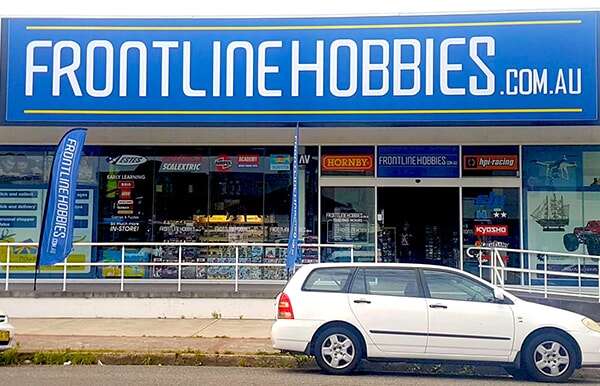 FrontLine Hobbies – SW Newcastle (Retail)
The Challenge
Frontline Hobbies decided to move the business to a bigger and better location. With their old location having excellent visibility and foot traffic, the new location did not and SIGNWAVE were asked to make them stand out from a distance. They wanted to create a big presence for a big 'Grand Opening' with lots of new signage and visual graphics.
The Solution
To solve all the challenges our client set out, SIGNWAVE came up with multiple solutions with lots of different materials.
SIGNWAVE created at big and bold signage that can be seen from a great distance, including a sail track banner on the building that is spot lit at night, window graphics detailing their clients services and products, along with freestanding fabric flags and that is just the external signage. The internal graphics include 20M of custom printed wall paper.
The Result
The completed signage resulted in a FANTASTIC grand 'Re-Opening' day.