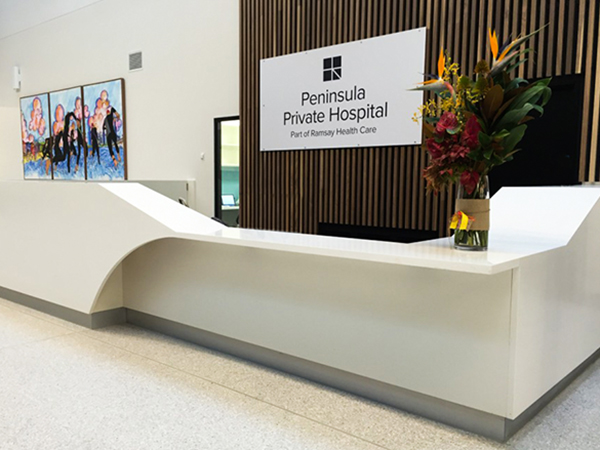 Peninsula Private – SW Hawthorn (Health Care)
The Challenge
The hospital contracted SIGNWAVE to provide a complete package from drawing up a sign inventory, costings, sign locations, design, fabrication and installation for 2, 30 bed wards and an emergency department in a new building on their existing campus.
The Solution
SIGNWAVE looked at traffic flows through the hospital with the aim of identifying key pause points (where people are required to decide direction of travel). SIGNWAVE then looked at appropriate sign treatments at these points to provide the best way finding solutions to ease the visitor journey, especially between the existing part of the hospital and the new building.
In consultation with the client, SIGNWAVE designed signs that were intuitive, simple, big and bold as well as using murals and large wall graphics as visual cues. The graphics also enhanced spaces that felt barren and sterile.
The Result
The feedback the hospital has had from staff, patients and visitors has been very positive. Staff have noticed that they are not being asked for directions as much. The murals have attracted very positive feedback, both in terms of assisting with way finding as well as bringing to life spaces with blank walls.